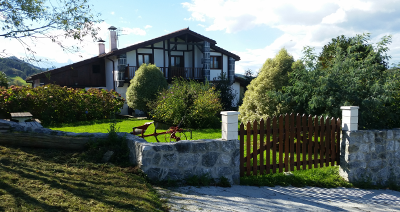 We welcome you to our house, a cozy place surrounded by nature, ideal to disconnect from the bustle and daily routine. We enjoy an exceptional panorama in all the rooms given the strategic situation in which we find ourselves, on a hill from where you can see from a bird's-eye view the town of Oiartzun at the gates of the Aia Natural Park and only 8km from Donostia-San Sebastián and 10km from Hondarribia with their respective cataloged beaches, giving us the option of enjoying both the mountains and the sea.
In our surroundings we have an exceptional gastronomic variety, both in terms of quality and prices, ranging from the most renowned restaurants to the simplicity of traditional home cooking.
It is important to highlight our human and family relationship with the guest, who we inform, daily and in detail, about different routes and itineraries, cultural and gastronomic, to be carried out in the area.
On the other hand and as a particular activity, our house offers guests active tourism in the form of hiking, a select variety of guided tours, combining the sea and the mountains with mythology and megalithic culture ...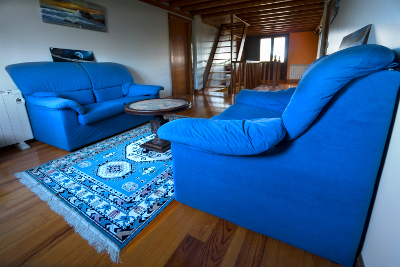 The interior of the house is distributed over 2 floors. The ground floor consists of a private area in which the owners of the house live and a common area, where we will find the living room where we can enjoy television, reading, firewood and a dining room where we offer the breakfast. The upper floor consists of 4 double rooms with private bathroom and heating, a sitting room and two balcony outlets to enjoy the panoramic view that surrounds us.
Outside we will find garden area with tables to enjoy the sunset in the relaxed summer sunsets.
Breakfast is offered. There is no option to use the kitchen.
The access to the house does not present any difficulty and you can enjoy an unbeatable panoramic view.